---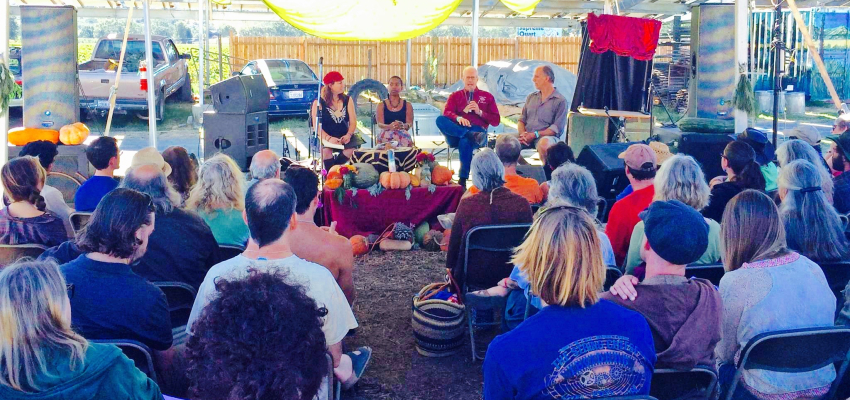 The 2016 Convergence will host a variety of speakers, workshops, skill shares, exhibits, interactive discussions and much more. We invite your participation! To apply to offer a workshop, please complete and submit your application in the form below.
* Priority workshop application was Fri July 15, 2016 at 5 pm. We are accepting applications until filled, and will consider late applications. Please submit ASAP if you would like to be considered, as our schedule is nearly filled.

Workshop presenters will receive a 35% discount to Convergence registration; once your workshop is accepted, you will receive a discount code to register. If you are needing any more financial assistance, please apply to our Equity and Inclusion Fund. We apologize for not being able to offer all workshop presenters free registration! The Convergence is a grassroots event with NO corporate sponsors. 
Convergence Schedule



NAPC : Wedneday – Friday
Primary sessions for the North American Permaculture Convergence (NAPC) will be Wednesday – Friday, building on the working groups and efforts from the 1st NAPC as well as the last International Permaculture Convergence held in the United Kingdom. In addition to the working groups, there will be a number of workshops, and open space geared towards sharing advanced permaculture skills and expanding efforts in the permaculture movement at large. Working groups for the NAPC, as well as workshop content, will also continue throughout the  entire weekend.
BRCC : Friday – Sunday
As we move into the weekend, the scope of the event will broaden to include a larger set of workshops, speakers, topics, and activities geared towards the public at large. There will be large group plenary sessions, open space, networking activities, live music, performing artists… climaxing in the "Ultimate Permaculture Passion Show!" on Sunday evening.
Convergence Theme: Building Bridges

The theme of this year's Convergence is "Building Bridges". How will your workshop/presentation demonstrate or teach how to build bridges between local and global movements, between specific movements and the general public, between diverse groups of all forms, between ancient indigenous practices and digital technology, between our inner psyches and the greater world? How will your workshop open up courageous conversations between various communities, projects or concepts? Show us your Bridge!
Workshop Tracks

We are currently looking for workshops with the following themes:
Skill Shares:  Hands-On and experiential demonstrations, such as fermenting, medicine making, composting, homesteading skills, etc.
Ecological Stewardship & Regenerative Design: water, soil, fire, air, broadacre permaculture, ecosystems restoration, climate change challenges & solutions
Resilient Homes & Neighborhoods: Urban permaculture,  urban/suburban neighborhood redesign, placemaking, natural building, community farms, ecovillages, intentional communities, land use ownership and policies
, solutions to gentrification and displacement, disaster preparedness
Leadership & Organizational Development: Personal leadership skills, capacity building for organizations, fundraising, marketing, partnerships, collaboration, dynamic self-governance, holacracy, social permaculture, Transition initiatives, movement building initiatives
Regenerative Business & New Economy: Right livelihood, social entrepreneurship, business skills, new economies, alternative currencies, financial permaculture
Food: Food sheds, food production, food forests, food justice, slow food, growing food, seed saving, food preparation… anything to do with food and how we feed ourselves.
Spiritual Health & Inner Resilience: Tending the inner landscapes, healing work, grief work, esoteric traditions, yoga, dance, and other movement or embodiment practices
Women Centered Solutions: Workshops lead by women, women's issues, feminine leadership, success stories & challenges from women's leadership
Next Generation (Youth): Workshops from, for and about youth; from school-based programs to youth leadership to youth presenters.
To apply to offer a workshop, please complete and submit your application in the form below.
* Priority workshop application deadline is July 15, at 5 pm.