My name is Chief Caleen Sisk of the Winnemem Wintu Tribe, I'm the fifth leader in an unbroken traditional leadership since settler contact. Our ancestral territory expands all along the McCloud River watershed below Bulyum Puyuk (Mt. Shasta). In the 1940s, with the installation of the Shasta Dam, my people were flooded out of our homelands and our Salmon relatives were blocked from returning to their spawning grounds.
SALMON ARE SACRED
We believe that when Creator put us on this Earth we had no voice. Our Salmon relatives saw we needed help and gave us their voice.  In return, we promised to always speak for them. Today, climate change, GMO farming, habitat destruction and water diversions for Big Ag are pushing our salmon relatives towards extinction . Our tribe has an ancient prophecy, "When there are no more salmon, there will be no more Winnemem Wintu people." For this reason, we believe that we must do everything we can to bring back our salmon. There is still hope. Our tribe is taking action to save our endangered salmon relatives and restore this keystone species to its rightful place in the natural world.
OUR STORY

In the late 1800s and early 1900s, salmon eggs were taken from the McCloud River to populate the rivers in other parts of the world. After the Shasta Dam was installed, we thought we had lost our fish forever but in 2004, when news about our War Dance went around the world, a New Zealand professor contacted us saying, "We have your fish, do you want them back?"We learned that the eggs that had been taken to Aotearoa (New Zealand) survived in the glacier-fed rivers and existed in healthy numbers. Now we are on a mission to bring home the genetic descendants of our wild chinook salmon. This June we need to raise $85,000 to begin the process of restoring our wild, genetically pure winter-run, chinook salmon in our California waters. This has never been done before, but it is the only chance we have to save our endangered Salmon relatives.
THE TIME IS NOW

We are working to bring our salmon home.  The descendants of our McCloud River salmon are thriving in Aotearoa (New Zealand), and they're beginning their spawning journey upstream this month. This July we hope to travel to New Zealand with our tribal youth to collect samples for DNA testing to prove to the U.S. government that the New Zealand salmon are indeed our McCloud river fish. If we can't complete phase 1, we may not have another chance. It's now or never.  We know that with your help we will make this project a reality.
The money we raise will go towards:
+$60K Will go towards hiring the staff and biologists to collect samples of the salmon and New Zealand's administrative costs. This will also cover campaign fees and administrative costs.
Our stretch goal will be to help fund our youth to travel to New Zealand in July to be a part of this historic restoration effort.
+$25k Will help get us to take our tribal youth to New Zealand to be a part of the restoration effort.
This has never been done before, but it's our only chance of saving our Salmon relatives. We are ready to bring our salmon home to our waters. Restoring our salmon runs to the high mountain streams is the only hope we have in helping the salmon survive climate change and revitalizing our culture. Join us in this movement, follow our tribe and join us on this journey as we continue to carry out our #Run4Salmon prayer (see more: Run4Salmon.org ) to protect our waters, restore our salmon and revive our culture.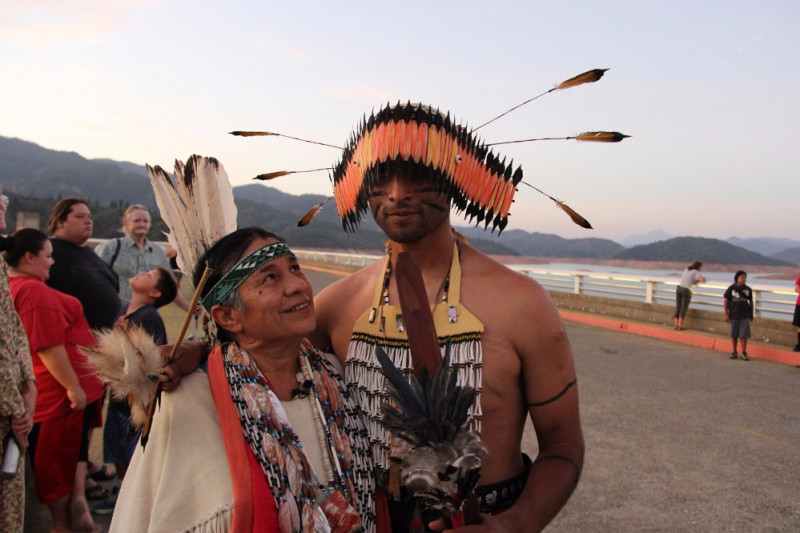 We believe in the good things coming,
Chief Caleen Sisk

P.S. To learn more about the Dancing Salmon Home documentary, visit
To donate to our Go Fund Me campaign visit: www.gofundme.com/salmonwillrun