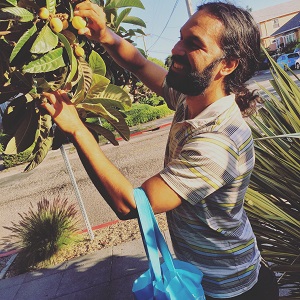 Foraging connects us to abundance and brings us into meaningful relationship with plants and people. It also releases feel-good chemicals in the brain. We will talk story and ethics behind gathering wild foods as well as learn the nutritional and mental health benefits. Freshly foraged foods will be available to sample as we dive deep into this ancestral art form.
Learn wild food collecting (for urban and rural settings) and sample fresh fruits as we discuss how foraging boosts overall health and connects people with ecology and community.
Foraging gives an easy access point to the world of permaculture by connecting people with the many wild foods that exist around them, whether they live in a crowded city or in the forest. Participants will gain an overall understanding of how to collect, when to collect, and how to interact in a positive way with the ecology and community around them as well as learning the mental, social and health benefits of wild food collecting. This will be presented as a class with encouragement for questions and sharing. We will be sampling freshly foraged fruits that I provide and I will be showing people how to collect seed from these fruits as a hands-on way of beginning their own permaculture plots.
 Sunday Oct 8| 11am| Willow Grove