[image_frame align="left" height="200″ width="200″ prettyphoto="false"]http://permacultureconvergence.com.webserver.vera.asdf456.com/wp-content/uploads/2015/09/vir.jpg[/image_frame]
Formed in Venice Beach California, and immersed in one of the most culturally diverse communities in LA, arises the heart driven, and service orientated Hip Hop emissaries of peace, the Luminaries. From the underground parties in "Dogtown" to the biggest festival stages on the west coast, the Luminaries have now taken their message international and crowds everywhere sing along the anthem, "Peace Worldwide Starts From Inside!"
The band sees themselves as more than just musicians, but as catalysts for change. Each member having played the role of teacher, social worker, and activist, from working with homeless youth to defending the nation's largest urban community garden, The South Central Farm. Luminaries embody the power of service, and do so of course through their inspirational live performances that leave audiences rejuvenated from the soul, down to the cellular level.
Luminaries bring an amazing live show that's reminiscent of the golden era of Hip Hop, fused with a soulful, electro, live band, funk filled experience! As expressed by one of the "Grandfathers" of the genre, and early founder of modern rap, Afrika Bambaataa reminded us the power of "Peace, Unity, Love, and having Fun!" In the same vein, Luminaries create a soundscape of Hip Hop mantras inviting audiences to participate in the connectivity of one another while going ecstatic on the dance floor!
Luminaries are no strangers to a large audience. Over the past couple years they have played around the festival circuit with such grand concert events as Harmony Festival, Lightning in a Bottle, Beloved Festival, and Earthdance, sharing the stage with some of the hottest acts of the moment, including Michael Franti, K 'Naan, The Glitch Mob, Matisyahu and Trevor Hall, as well as time-tested vets like KRS-ONE, STS9 and even India Arie.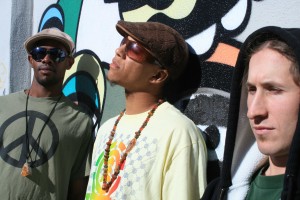 In 2011, Luminaries were invited as global ambassadors by Sister Cities International to participate in a 10-day tour through the Middle East promoting peace. The crew visited youth centers, college students, and political dignitaries sharing their cultural philosophies, while preforming concerts in Israel, and Palestine including the widely attended Taybeh Music Festival. In 2012, Luminaries again graced the International stage by performing at the Bali Spirit Festival in Ubud, Indonesia, and continue to expand their horizons in the global performance market.
Currently, the band is in the production with their 2nd full-length album, while growing their fan base with nationwide bookings. While continually being recruited to perform, the Luminaries also produce their own events in Los Angeles under their production, and music label emblem Lu Fam Pro. Their largely successful weekly event "Luminous Movement" has brought new life to the Los Angeles nightlife scene, and label mate Clayton Joseph Scott's album "More Love" marked the brands first major release outside their own projects. With vision of producing larger scale festival on the horizon, Luminaries have set their sights on becoming your household name for being the Hip Hop group that has something positive to share with the world. We invite you to join the movement and remember, we are all luminous beings having a human experience. www.luminariesmusic.com
Performance Time: Friday, Sept 16, 11:00 pm – 12:00pm