Here We Grow … DRUM!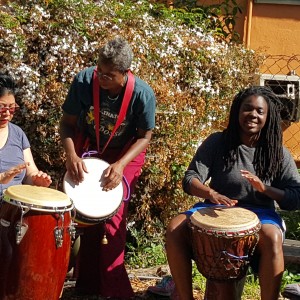 Connect – Nourish – Grow – Activate – Release – Sustain concepts are alive in the prinicples of Permaculture. Drumming has been an integral part of human experience and must now be re-ignited in movements of today and for our future. Join us in an intentional held circle of Sacred Community Play, Songs, Movement. Learn drum-specific techniques, culturally specific rhythms, songs and dances for the Djembe, Dunun, Conga, Shekere, Bell, Cajun, Ashiko. All levels welcome – Bring your Drums or Use Ours
We DRUM to GROW into new parts of our unconscious for necessary life force reinforcement. We DRUM to ACTIVATE all evolutionary movements, including and not limited to– gender, environmental, racial, economic, and food justice. Let's DRUM to NOURISH community wellness and regeneration together. DRUM nourishment provides powerful opportunities for women, men, and children who have experienced trauma. We will utilize drumming in an embodied interactive circle, with each person's intention of AWAKENING together to release post traumatic stress/slave syndrome, deep trauma supported by deep breathing and movement, engaged listening and restoration.
Presented By: Afia Walking Tree, M.Ed