Implementing a Full-Scale Design, Sivananda Yoga Farm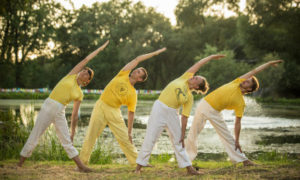 In this workshop Colin and Phillip will talk about the challenges in implementing a Permaculture design at the Sivananda Yoga Farm in Grass Valley, CA. They will review the design elements, the invisible structures, the 5 zones, as well as touch on the importance of spiritual practice in any well-rounded Permaculture design. This workshop will use the Yoga Farm as a model to tie in larger themes of self-sustainability with ecological resilience.
The Sivananda Ashram Yoga Farm is working on building more resilience by implementing a full-scale Permaculture design on the property. This presentation or workshop can give them a tangible application of Permaculture design at the beginning stages. Furthermore, the theme ties in to diversity in a multitude of ways. The motto of the Sivananda organization is "Unity in Diversity". Though they are a traditional school of Yoga teachings, they embrace and accept all races, creeds, religions etc. The Sivananda Yoga Farm offers 200-hour Yoga Teacher Trainings as well as Permaculture Design Certificates and a multitude of other courses. The workshop will begin with a couple interactive, simple Yogic breathing exercises to help participants stay grounded and focused, as well as give them a snippet of what is taught at the Ashram.
Friday Oct 6| 3:30pm| Zocalo