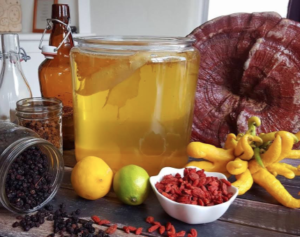 Kombucha, and its lesser known honey-based cousin jun, are brewed by thousands at home but many brewers can be frustrated by the resulting beverage: the taste is off, there's little or no carbonation, and it is nothing like their favorite store-bought brand. In this workshop, Douglas Reil will cover the basics of brewing but focus on some key tips and techniques to making top level fermented beverages at home. The workshop will also contrast kombucha techniques with that of jun, the rare and unusual honey-based fermented drink.
Key areas we will cover include:
• Brewing tips and advanced techniques
• Timing the brew for optimal balance and flavor
• Flavoring techniques and approaches
• Second ferment tips and optimizing carbonation
This workshop will cover tips and techniques for both kombucha and jun brewing to create the best home-brew ever.

Friday Oct. 6| 11am and 2pm| Tea House