Natural Building Made Easy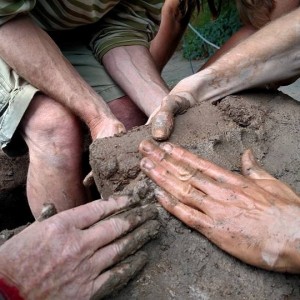 In this workshop we will discuss some of the many techniques and advantages of building with Earth. Lead by Miguel Elliott aka "Sir Cobalot" of Living Earth Structures you will have the opportunity to get your hands dirty as we build a basic earthen cob structure. Covered in the workshop will be how to build a proper foundation for what you want to build, how to identify good Earth for building, plastering and waterproofing techniques. There will be a discussion about the current code requirements involving natural building and what can be done to further adopt new policy regarding small earthen structures.
Historically, communities have always gathered around earthen ovens to bake their food, tell stories and connect with each other. In the process of building an earthen structure, the community bond is strengthened which contributes to a sense of resiliency. Covered in the workshop will be how to build a dome oven using Adobe bricks which can be done easily and in less than an hour. It is a great activity to do with children in schools and with any community group. This easy, cheap dome technique could be applied to building larger structures as well, such as saunas, meditation huts, play structures, or huts.
Presented By: Miguel "Cobalot" Elliott
Wednesday September 14th | 4;15 PM – 5:15 PM | Mediterranean Garden