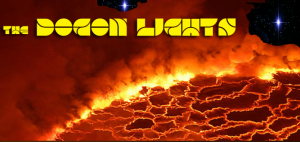 [image_frame align="left" height="200″ width="200″ prettyphoto="false"]http://permacultureconvergence.com.webserver.vera.asdf456.com/wp-content/uploads/2015/09/vir.jpg[/image_frame]
Pronounced "Doe-Gone, The Dogon Lights  "Afro-Galactic Hip Hop" from the Bay Area. The Dogon Lights create a shamanic and energetic dance atmosphere that takes the listener straight to the stars. Traditional skin and wood instruments are blended with hip hop beats,  African instruments, rapping, electronica and psychedelic groove.
The Dogon Lights combine a blend of styles that is fresh and instantly recognizable. A blend of languages ( English, French, Wolof, Bambara etc) and instruments such as the Sintir and Guimbri from Morocco, the Kamale Ngoni, (similar to the Kora) from Mali and Burkina Faso, Calabash and Djembe of West Africa, with Electric Bass, Guitar, Synthesizer and Drums.  The word, "Dogon" comes from the Dogon people of Mali who believe they are from "the dog star" or Sirius.  The Dogon Lights have opened up for grammy winning artists Tinariwen from Mali as well as Bombino from Niger. Members have Performed with Bassnectar, Beats Antique, Rising Appalachia, The Mickey Hart Band, Hamsa Lila, Dirtwire and many others. www.dogonlights.com
Members
The band features members of the award winning band Hamsa Lila (Vir McCoy, Evan Fraser, Ian "Inkx" Herman), as well as Evan Fraser of Dirtwire (with David Sartori of Beats Antique) with renowned Guinean djembe player Bongo Sidibe.  Ashel Seazuns performes with Bassnectar.
Vir McCoy ( Hamsa Lila, Mickey Hart,)  plays the camel skinned Sintir (a traditional instrument of the Gnawa of Morocco) and the goat skinned gimbri (traditional Moroccan Berber and arabic instrument), Djeli-ngoni (Malian lute) as well as Electric Bass and Guitar.
Evan Fraser (Hamsa Lila, Dirtwire, Stellamara) plays Kamale Ngoni, Kalimba, Illimba, Berimbau, Calabash, Zabumba, Ney, Jaw Harp, Slide Guitar, Synthesizer and just about everything else you could imagine.
Bongo Sidibe is a native of Guinea, and a master Djembe drummer. A well known San Francisco teacher and performer Bongo adds his rhythmic fire to the mix. Bongo adds his vocals for traditional and original songs.
Gary Norris is a bay area native and ads his funky Hip Hop drumming to the mix.
Ashel Seazuns   Mc, rapper and vocalist, Ashel has toured with Bassnectar and created amazing music with Earth Amplified.
Performance Time: Thursday October 9, 10:15 pm – 12:00 am