10th Element of Hip Hop Health & Wellness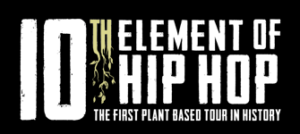 Did you know that Hip Hop culture has 10 elements? The newest element, the 10th Element, is called Health & Wellness. Why did we add it to Hip Hop culture? What are the implications of this new element? How can we each play a part in developing this new phase of Hip Hop? How can it effect your life? Your community? And the World?
The 10th Element of Hip Hop is Health & Wellness and our Proclamation reclaims the original intent and purpose of Hip Hop culture by reinvigorating its transformative narrative, using the power and influence of Hip Hop to create a healthier community that will sustain and support future generations. Come build with founder of Hip Hop is Green, Keith Tucker, Ashel Seasunz, Hip Hop is Green's strategist, and the 7 year old Chef DJ, St.Louis' Hip Hop is Green Chapter rising star.
TBA