Music As Medicine In Our Time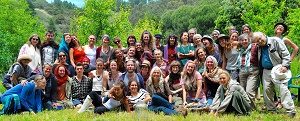 Lydia Violet (of Ayla Nereo band) will lead us through an intimate experience with Joanna Macy's Work That Reconnects (WTR), a set of teachings and group exercises that help build inner resilience, fierce compassion, wisdom, and creative responses to challenging eco-socio-political times. As we move through both the dangers and awakenings we currently face as a people, we learn tools, meditations, and concepts that we can rest into, connecting to our desires to be effective allies to both planet and people. Hearts opened by grief and celebration want to sing their songs of longing, despair, reckoning, and gentle loving kindness. We bring in music of revolution, transformation, and celebration as we navigate our questions and our solutions for this time.
This work helps cultivate healing and resilience in our hearts and psyches as we continue to show up for the heartbreak and desecration of our world. Showing up in our time is inherently taxing on our empathy, our faith in humanity, and our energy to show up for our communities. When we acknowledge this, we can rest into this shared experience and that our pain is born out of our still giving a damn, which is a holy feeling in our time. The combination of Joanna's work and music offer a beautiful set of tools for growing our inner resources to stay engaged in our world, and somatically experience our belonging in community and in the living body of Earth.
Saturday Oct 7| 11am| Willow Grove