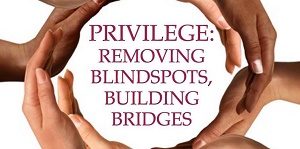 In this 3-hour workshop, we will lay the foundation to:
*Develop clear definitions of race, oppression and privilege.
*Interrupt the pervasive and unseen operations of privilege.
*Increase capacity to create interactions that build bridges of trust.
*Develop a framework to understand cultural appropriation.
*See how a "color-blind" approach while well-intentioned both reads as a time-bomb of hurtful, unexamined entitlement and continues to yield unequal results.
* Cultivating a culture that is safe, inclusive, and supportive for diversity to thrive
* Learn tools, practices, and principals of alliance.
Ray and Michael share Common Vision's Anti-Racism 101 training designed to give white folks the basic understanding and tools they need to create a more inclusive, safe, and supportive culture for diversity to thrive in their organizations and collaborations.
Saturday Oct 7| 2pm| Bioregional Hub