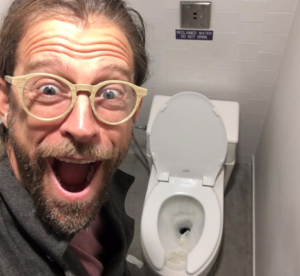 Nik Bertulis wants to reinstate abundance for all life via empowering humanity's intrinsic regenerative potential. He studied permaculture with Bill Mollison and is a certified permaculture teacher, wildlands firefighter and emergency medical technician with a B.A.S. degree in ecological design from Colorado College.
His professional accomplishments include helping develop and teaching permaculture and regenerative design programs at Merritt College in Oakland and the San Francisco Art Institute. As an artist he co-founded the award winning public arts collaborative Monsoon Arsenal and as a designer-builder he was cofounder and CFO of the successful permaculture design-build company the DIG Cooperative where he helped pioneer some of the first permitted constructed wetlands and rainwater recycling systems in the bay area. His clients have ranged from Mexico City's Ministry of the Environment to Los Alamos National Laboratory. A deep love for non-profiteering led him to co-found several non-profits including Urban Biofilter, PLACE for Sustainable Living and most recently the California Center for Natural History. He also serves on the board of the Watershed Alliance of Marin and the Dietrich Institute for Applied Insect Ecology. He currently serves as CEO of the Oakleyville Cooperative in Oakland, CA.
Most of his free time is spent tinkering on regenerative living systems, transformative scenario planning and invertebrate macro-photography. More examples of his work can be seen at
nikbertulis.com
.