Walking the Labyrinth: Fostering Spiritual Growth by Creating Sacred Space and Building Community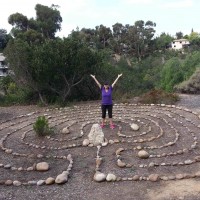 Introduction to Labyrinths: The history of ancient labyrinths and their modern rediscovery as a tool for spiritual growth and building community. Found all over the world and in many different cultures, the labyrinth is an archetype that unites us as a people. Unlike a maze meant to deceive and distract, in the labyrinth there is only one path to the center and back out again. The labyrinth is an aid to meditative practice and mirrors our journey through life: we're all walking our own path, but we're doing it together.
Jamie Edmonds will be using the labyrinth as a powerful tool to unite us in community. They can be put almost anywhere and can instantly turn any space into a sacred space. Join Jamie to walk the labyrinth on site.
Learn more about: Jamie Edmonds