Herbal First Aid & Wellness Intensive
Critical skills for turbulent times!
with Greta de la Montagne of *M*A*S*H*H* THURSDAY, SEPTEMBER 20

Full Day Immersion Workshop
(tickets sold separately)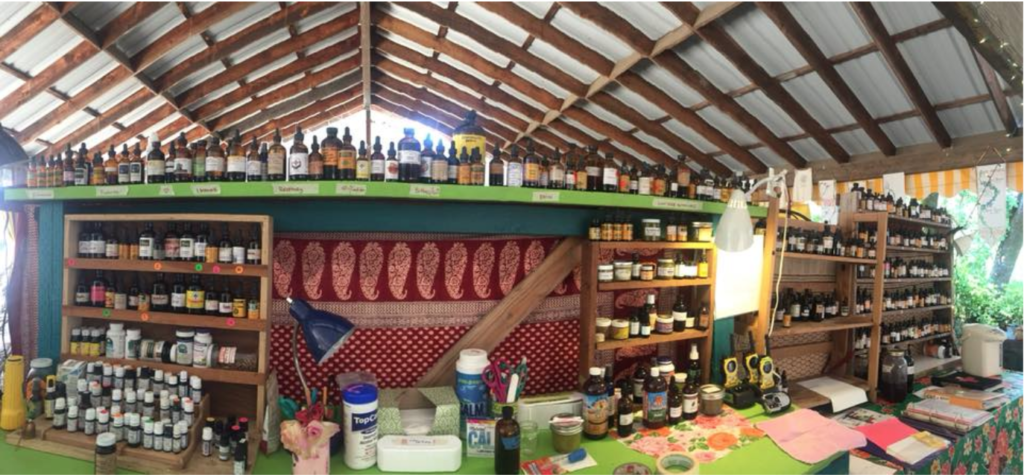 Herbal First Aid has the advantage of using materials that are widely available such as kitchen spices, weeds, and wild plants. In this regard, having knowledge of useful remedies that are often close at hand can be empowering to communities, especially those facing economic challenges, a catastrophic natural disaster, or just simply those who wish to live closer to the earth with a focus on resilience and self-sufficiency.
This Full Day Intensive will present strategies, remedies and routines gathered from two decades of working on the front lines in the forest defense and social justice movements, and administering off-grid first aid clinics at large outdoor gatherings. Geared toward the practicing herbalist or medical clinician, this class is also designed as an introduction to home health first aid for the lay person with no previous medical or herbal training.
For laypersons, homesteaders, wilderness trekkers, earthquake preparers, forest or social justice activists. Learn some basic herbal first aid skills and assessment tools or enhance your existing knowledge. Plant identification, wildcrafting/plant collecting ethics, herbal first aid kit ingredients techniques such as wound poulticing, sprain management and heat exhaustion. Empower your home or community toward greater self-reliance. Greta has practiced herbal first aid exclusively for nearly 30 years, and has first hand experience treating a wide range of injuries & ailments in children, livestock, and large groups of people. Students will gain an understanding of how to apply herbal first aid in their home and communities.
Learning Outcomes:
Understand the basic principles of responding to urgent or emergency type conditions in your community or neighborhood. Learn the steps in helping someone with an injury, and the top herbal remedies associated with many of our most frequent maladies that heroic medicine has little or no effective, sustainable or gentle solutions for.
Improve knowledge of the uses of common weeds and kitchen herbs, relatively easy to grow herbal medicines or difficult to find and obtain choice remedies. Understand the ethical dilemmas involved with purchasing manufactured medicines, and re-gain knowledge of inexpensive remedies for many of the most frequent maladies.
Learn how to prepare, set up and administer an effective herbal first aid kit for home health or a large remote clinic capable of treating hundreds.
About Greta de la Montagne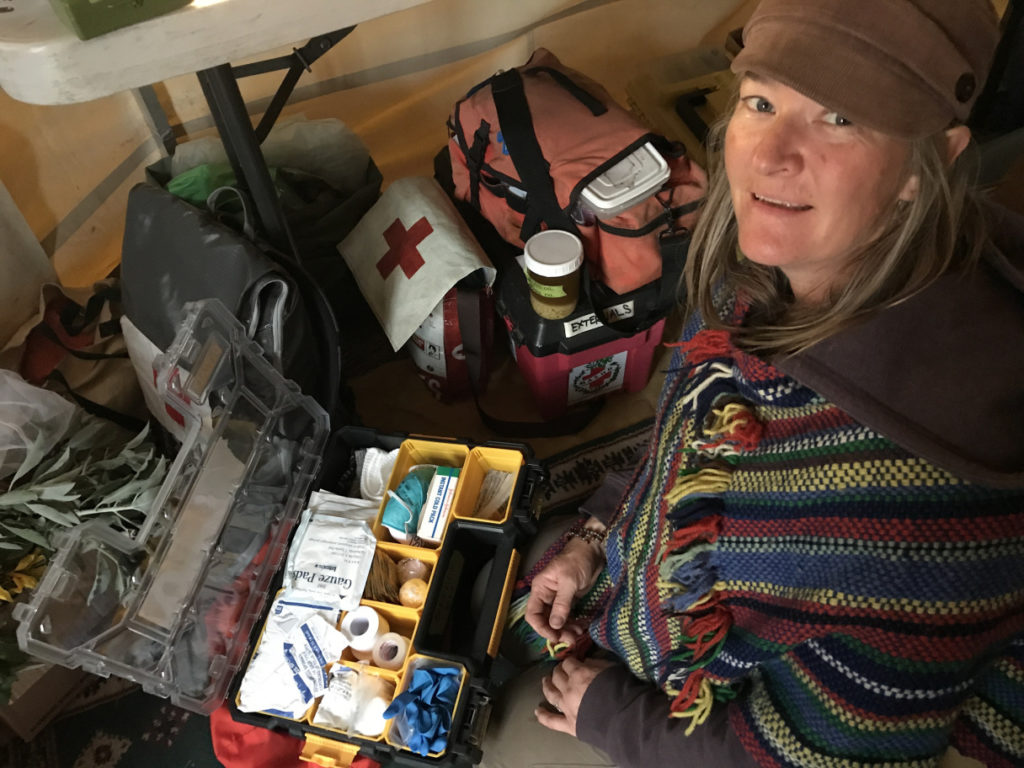 Greta de la Montagne, RH(AHG) is a radical environmentalist, herbalist and bodyworker who has specialized in herbal first aid for front-line activists for nearly 30 years, and has first hand experience treating a wide range of injuries & ailments in children, livestock, and large groups of people. She was raised in the Northern Wild Rockies and is deeply connected to the Yellowstone Bioregion. She currently operates Gentle Strength Botanicals and Massage Therapy near Arcata, California, where she blends Ayurveda and Bodywork with Clinical Herbalism. Greta cultivates nearly all the medicines for her apothecary in her Victory Garden style "Michael Moore Memorial Medicinal Herb Garden". She founded the MASHH Clinic (Medicine for All Seeking Health & Healing) in 1995, led the formation of the collective around 2006, founded Cascadia Health Educators (CHE) in 2002, was a member of Black Cross Health Collective in Portland, Oregon, and is a Wilderness First Responder and EMT trained.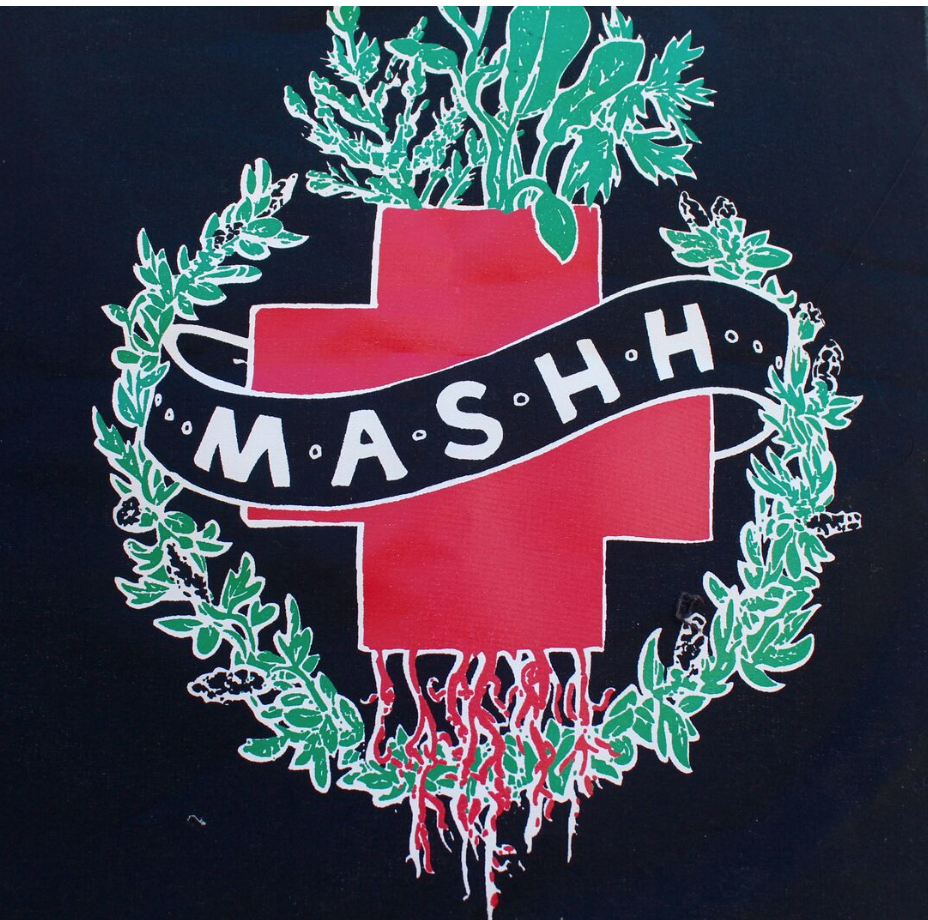 MASHH is a not-for-profit all volunteer-run, mobile, off-grid, front-line first aid and wellness clinic + education that supports large outdoor gatherings and resistance campaigns. We support groups and organizations of all shapes and sizes and those who don't have access to regular medical care. We are a Pacific Northwest-based collective of Professional Clinical Herbalists, Holistic Health Practitioners, Street and Forest Medics who are experts who specialize in herbal first aid, education and wellness.
Our focus since 1994 has been supporting grassroots and direct action movements for social and environmental justice. Our flagship accomplishment was administering the base clinic during the "Seattle ShutDown"/WTO protests in 1999 and running as street medics at anti-globalization mobilizations for years thereafter. We were involved with grounding and manifesting what became the Common Ground Clinic in New Orleans after Hurricane Katrina. Now we volunteer our skills and help get medical supplies and clinical support to a variety of off-grid events such as nonprofit gatherings of herbalists, ancestral arts gatherings, forest defense campaigns, native lands rights actions, and base clinics at social justice movements in metropolitan areas.
We honor your privacy, and do not share your information. Safe unsubscribe.