With 9 Stages, 9 tracks, 70 plus workshops and over 100 presenters… the Workshops at the Convergence are going to be Hands-Down, Amazing!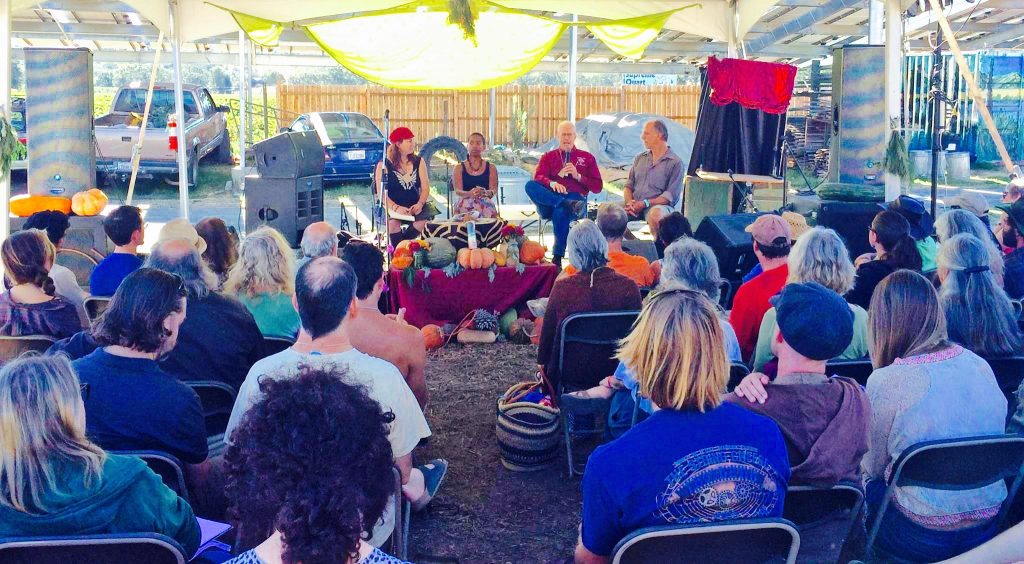 With keynotes speakers, workshops, skills shares, & panel discussions from leading resilience thinkers and doers; a model resilient community; live music; camping; child and youth programming; and plenty of opportunities for co-inspiration and cross-pollination… the North American Permaculture & Building Resilient Communities Convergence will bring together leaders, permaculture designers, transition organizers, activists, young people, homesteaders, designers, social entrepreneurs, and others who are passionate  about shifting the paradigm and joining together to cross-pollinate, skill-up, synergize and celebrate!
Check out our workshops themes and topics below, followed by a list of workshop titles and descriptions.
____________________________________________________________________________
[colored_box variation="silver"]
WORKSHOP TRACKS

| | | |
| --- | --- | --- |
| [button link="http://permacultureconvergence.com.webserver.vera.asdf456.com/tag/skill-shares/" size="medium" variation="blue"]        Skill Shares        [/button] | [button link="http://permacultureconvergence.com.webserver.vera.asdf456.com/tag/ecological-stewardship-regenerative-design/" size="medium" variation="blue"]Ecological Stewardship & Regenerative Design[/button] | [button link="http://permacultureconvergence.com.webserver.vera.asdf456.com/tag/resilient-homes-neighborhoods/" size="medium" variation="blue"]Resilient Homes & Neighborhoods[/button] |
| [button link="http://permacultureconvergence.com.webserver.vera.asdf456.com/tag/leadership-organizational-development/" size="medium" variation="blue"]Leadership & Organizational Development[/button] | [button link="http://permacultureconvergence.com.webserver.vera.asdf456.com/tag/regenerative-business-new-economy/" size="medium" variation="blue"]Regenerative Business & New Economy[/button] | [button link="http://permacultureconvergence.com.webserver.vera.asdf456.com/tag/food/" size="medium" variation="blue"]            Food            [/button] |
| [button link="http://permacultureconvergence.com.webserver.vera.asdf456.com/tag/spiritual-health-inner-resilience/" size="medium" variation="blue"]Spiritual Health & Inner Resilience[/button] | [button link="http://permacultureconvergence.com.webserver.vera.asdf456.com/tag/women-centered-solutions/" size="medium" variation="blue"]Women Centered Solutions[/button] | [button link="http://permacultureconvergence.com.webserver.vera.asdf456.com/tag/next-generation-youth/" size="medium" variation="blue"]Next Generation (Youth)[/button] |
[/colored_box]
2016 Convergence Workshops



---