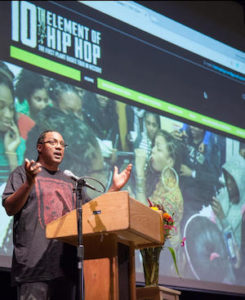 Keith Tucker – Founder of Hip Hop is Green
Health Activist, Film Maker, Radio Host, Journalist and Speaker
Keith Tucker has been a committed community activist and businessman for over 20 years. He has worked hundreds of businesses, youth groups and community organizations throughout the years. He has worked with many icons in the entertainment business as a promoter, activist and culture builder.
He spearheaded protests against the stereotyping of Hip Hop artists and mentored many youth over the years. He received the Martin Luther King County Executives Award for Community service, the African American Achievement Award, the Keep it Fresh award and the 2015 Jefferson Award and is responsible for the first ever Hip Hop Health day.
In 2008 Keith hosted his own radio show (the Keith Tucker Show) and subsequently embarked on a documentary film project entitled "Pursuit of a Green Planet" where he learned to live his life as a vegan. On his first research trip he visited the Seattle Vegfest and tasted vegan food for the first time. This experience was the catalysts for him to start to serve free plant based meals to the youth in the community and bring Hip Hop performers to entertain and educate a new generation through Hip Hop culture.
So in 2009 he held the first Hip Hop Green Dinner in history. Since then he has produced Hip Hop Green Dinners around the country and assembled the largest team of Hip Hop artist and educators in the world all with the goal of bringing health and wellness to youth and families. In 2015 he was the architect of the Hip Hop is Green tour, first ever national plant based Hip Hop tour in history. In 2016 he drafted the official 10th Element of Hip Hop proclamation and thus created a new element in Hip Hop, the 10th Element which is " Health & Wellness.
Saturday, Oct 6| 4:30 – 5:30 pm| Main Stage