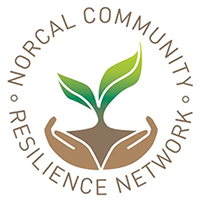 Our Vision
The vision of the NorCal Community Resilience Network is to transform our homes, neighborhoods, and communities into vibrant, regenerative places. We are a building a Network of solutionaries – citizen activists, businesses and grassroots organizations who are turning despair into action through people-powered, nature-inspired, and community-based solutions which are addressing some of the most pressing social and environmental problems of our time.
Here in Northern California, we are blessed with an abundance of community groups working to realize the sustainable future we need. The NorCal Community Resilience Network seeks to unite these groups into a coalition that offers strategies for collective impact and builds collaboration for a more resilient world.
Across the globe, people are working to reform, recreate, and reimagine existing systems along more sustainable lines. In our work to build resilient communities, the NorCal Community Resilience Network stands in solidarity with these regenerative efforts and with movements to resist neoliberalism, environmental destruction, and militarization at all levels.
Our Mission
The NorCal Community Resilience Network  activates and supports community-based and ecological solutions to climate change, economic instability and social inequity toward a Just Transition away from fossil fuels. Our work increases capacity for grassroots projects and programs, builds solidarity across divides of race, class, sector and region, and broadens support for the Northern California community resilience movement as a whole.